Laura strives to delights audiences with her sophisticated, individual interpretation of jazz: standards and contemporary, latin, and pop standards of the 60's - 90's songs. With a personal songbook of 250 tunes, Laura knows music that will satisfy any event requirement. In fact, she has the ability to perform full sets in French or English.
A Niagara-based chanteuse for the past 4 years, Laura enjoys collaborating and performing with quality musicians. She has had the pleasure of sharing the stage with various Niagara Region (Dan Kozar, Greg Rodman, Doug Mundy, Rob McBride, Warren Stirtzinger, and Linda Tamburri) and New York State musicians. In July she performs with rhythm section extraordinaire: Dariusz Terefenko (Pianist), Ike Sturm (bass), Darmon Maeder (sax) and Mark Ferber(drums) in Rochester, New York.
Whether performing in duos, trios, and quartets or with the St. Catharines Nu Klezmer Orchestra, Laura works to captivate anyone listening. She sings in a variety of romantic languages: french, spanish, ladino, and yiddish.
Laura's desire is to express her love of sophisticated jazz performing throughout the Niagara region and surrounding area. "Classy, sophisticated, expressive" are just a few adjectives that describe her singing style.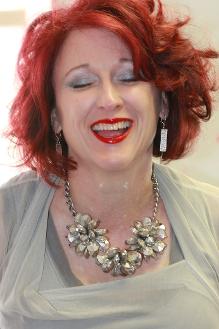 Reviews:
Question:… Will that amazingly fine singer be part of this up-coming performance ?? I do hope so !" : Attendee from last year's Nu Klezmer Performance about June 14th, 2015 performance
"She pleased the crowd with their favorite show tunes by famous singers such as Nat King Cole and Frank Sinatra.": Life Enhancement Co-ordinater, Heatherwood Retirement Residence, 2014
Laura did an Amazing set at our Women of Worth Magazines WOW Gal Celebration 5 Year Anniversary Event! One comment being...I never liked Jazz until now. Loved the song choices!
COPYRIGHT © 2014 LIVING LRG PRODUCTIONS ALL RIGHTS RESERVED.